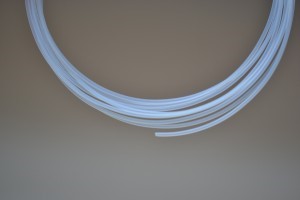 Although it's better known to the general public when it's marketed as a "non-stick coating," the prevalence of fluoropolymers is expected to grow. According to a recent study from market research firm Mordor Intelligence, the non-stick coatings market will see a compounded annual growth rate of just under six percent from 2019 through 2024.
Fluorotherm, which brings more than four decades of fluoropolymer knowledge to this highly-specialized industry, is encouraged to see such positive predictions. Fluorotherm's various fluoropolymer products are used by a wide range of industries, including automotive, scientific, aerospace, heavy industry and more. Per the Mordor Intelligence study, the industrial machinery sector is likely to witness a "major growth rate."
"The application of dry film lubricants offers design versatility when traditional lubrication is not feasible," according to the study, which adds "any of these non-stick coatings are [U.S. Food and Drug Administration] acceptable and include such fluoropolymers as PTFE and FEP suspended in a high-performance resin." FDA approval of PTFE and FEP fluoropolymers is an important aspect here, as it shows federal-level oversight went into the production process. The study adds that such coatings "are used for various machine parts," which can include bearings, slide plates, gears, bushings, O-rings, saw blades and pipe linings. Monofilament fiber, which can be braided to form a non-stick surface meant for high-temperature environments, is a product that Fluorotherm produces. Generally, this braided sleeve made from PTFE fiber is wrapped over pipes and hoses "in order to protect them from chemical attack or abrasive environments."
Protection from chemical attacks is arguably a bit more demanding than when non-stick coatings are used for cookware, but it goes to show how effective fluoropolymers can be. The Mordor Intelligence study goes on to say that household applications are still on the rise and are being driven by the Asia-Pacific region. Household income increases, as well as a growing overall population in that part of the world, is also increasing demand for kitchen appliances and cookware. Since so many consumers have seen the daily conveniences that non-stick pots and pans can offer, it's no surprise that products containing fluoropolymers will continue to sell well.
A "fragmented" and competitive landscape exists within the fluoropolymer industry, per the study. With current clients that span the globe and products in use internationally, it's no wonder that Fluorotherm has climbed to the top of the sector. This company has consistently adapted to changing landscapes and proven itself to be an industry leader decade after decade.