ETFE Tubing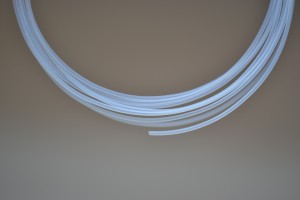 ETFE is a fluoropolymer that is chemically and structurally similar to polyolefins such as polyethylene, thus providing a higher abrasion, impact, and crush resistance than its fully fluorinated (perfluoropolymer) counterparts -PTFE, FEP, and PFA.
ETFE tubing is commonly used in wiring harnesses, in exterior film applications where weathering resistance is desirable, and as a liner in tanks where specific chemical and wear resistance is required. Its high tensile strength at 25 C also leads to a higher working pressure at that temperature. ETFE's mechanical and chemical properties were (and still are) so strong that it was chosen as a material for the Olympics! The Beijing National Aquatic Centre, built for the 2008 Summer Olympics, is the largest building made of ETFE laminate film.
Key Properties
High abrasion and wear resistance while maintaining chemical inertness
Higher tensile strength and working pressure than PTFE, FEP, PFA at 25 degrees Celsius
More limited chemical resistance than PTFE, FEP and PFA
Great for mechanical, electrical, architectural, and aerospace applications
Maximum use temperature of 300 F (~150 C)
Natural ETFE is semi-transparent
More information in Technical Resources
*Manufactured in the USA by experienced fluoropolymer manufacturer Fluorotherm™, ETFE tubing is semi-transparent in color and gamma, steam, gas, or chemically sterilizable.