PVDF Tubing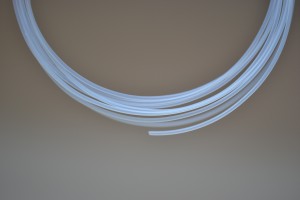 PVDF, or Polyvinylidene Fluoride Fluoropolymer, provides good abrasion and wear properties with low permeability. PVDF tubing is used in a variety of industries such as aerospace, semiconductor, medical, automotive, fiber optics and marine tanks. PVDF's upper use temperature of 250°F is lower than PFA; however, it is the material of choice in high purity and chemical resistance applications such as critical fluid handling, pharmaceutical and air/water environmental sampling, heat transfer and where cost is more sensitive than PFA. PVDF tubing is also approved by the FDA as safe for interaction with food and water, which is why PVDF tubing is one of the more popular choices of tubing in food processing applications. PVDF tubing is also a common choice for those in need of stable tube connectors that are exposed to harsh chemicals or aggressive environments. Ultimately, PVDF tubing is a great choice for those seeking high-quality fluoropolymer tubing at a competitive price.
Key Properties
High abrasion and wear resistance while maintaining chemical inertness
Available in flexible and rigid tubing grades
UV resistant
Low Permeability
Resistant to bacterial/fungal growth
FDA compliant
Use temperature range of -50 C to 150 C
More information in Technical Resources
Learn more about PVDF tubing and other types of fluoropolymer tubing that could meet the needs of your specific application by contacting Fluorotherm™ at 1-877-777-2629.