Fabricated Products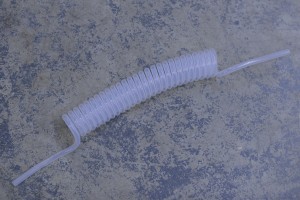 Where necessary, Fluorotherm™ works under an NDA in order to protect proprietary technologies for all involved parties. Our core strength in fluoropolymers and other high performance polymers provides a strong platform for both new designs and those that need improvement or enhancement.
Most fabricated products are based on tubing, however, our capabilities includes working with other profiles, making us a versatile supplier of fabricated products. Some applications require product specification assistance from Fluorotherm™ and may be co-designed with the customer to satisfy specific requirements.
Fluorotherm™ fabricated products include a large family of offerings that are made to prints specified by the customer. These may include the following operations:
Forming
Tipping
Flanging
Flaring
Bending and coiling
Bonding
Machining or
Molding
When you choose Fluorotherm™ to provide you with fluoropolymer fabricated products, you are choosing the most robust manufacturer of high quality materials. We give our clients a wide selection of offerings that can meet your needs for numerous applications. Talk with a representative today about our fabricated products when you contact us at 1-877-777-2629.