Striped Tubing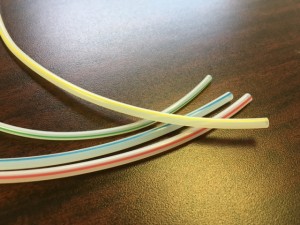 Striped tubing is primarily used for easy identification of lines carrying specific fluids or intended for specific purposes. The product properties as the same as the base resin in all respects.
Currently, this tubing only comes in PTFE. The unique properties of PTFE cover an impressive range - high use temperature compared to other polymers, almost universal chemical resistance, excellent electrical properties at high voltage and high signal frequencies, non-stick characteristics, use under extreme low temperatures (cryogenic conditions) and excellent UV resistance.
Key Properties:
Stripe is continuous along tubing length, thus tubing is easily identified without the need to search for hard to find markings
Used to easily identify tubing running different types of fluids
Properties are the same as for regular "un-striped" PTFE tubing
Stripe marking is on the outside of the tubing, thus eliminating any possibility of interaction with the color band
Striped band resists wear and deterioration from exposure to high temperatures or to chemically aggressive environments.
More information in Technical Resources
* Manufactured by Fluorotherm™ in the USA, FEP tubing comes in a variety of colors and is Ul 94 VE-0, NSF and FDA approved. Contact Fluorotherm™ today to place your order of striped tubing.