Fluoropolymers are used in a vast array of industries and specific applications, and while this is primarily due to fluoropolymer's unparalleled properties, it's also due to its ability to manifest as a variety of products. At Fluorotherm™, we're able to accommodate our commercial customers with diverse fluoropolymer options to ensure that all systems and applications can benefit from fluoropolymer's unique advantages.
Our fluoropolymer selection includes:
Fluoropolymer Tubing
Our fluoropolymer tubing is available in the seven main types of fluoropolymer: PTFE, FEP, PFA, ETFE, PVDF, H2 and Heat Shrink.  Though each possess their own unique characteristics, all can be purchased in standard and metric measurements, and can be made as clear or colored tubing. The flexibility of fluoropolymer tubing makes it an ideal choice for food and beverage companies that require the sterile transport of foods and liquids, as well as for application in fiber optics, aerospace communications, and medical devices like catheters. Fluoropolymer tubing can also be formed into custom coils.
Fluoropolymer Rods
Many industries that wish to benefit from the advantages of fluoropolymer may require sturdier, more rigid fluoropolymer products, which is where our fluoropolymer rods come in. Made of PCTFE, these rods are designed as a specific solution to environments in which high temperatures, electrical currents, and chemicals are all at play. PCTFE rods also prevent moisture build-up, which can be critical in industries that deal with sensitive technological instruments. These rods are also far more mechanically sound than other fluoropolymers.
Fluoropolymer Fabricated Products
Sometimes, standard fluoropolymer tubes and rods can't quite meet customers' exact needs. Industry applications are becoming increasingly complex, which means that more companies are seeking fluoropolymer products specifically outfitted to their own designs. That's why we're able to help customers create customized fluoropolymer products with our bending, forming, machining, bonding, and molding capabilities (just to name a few).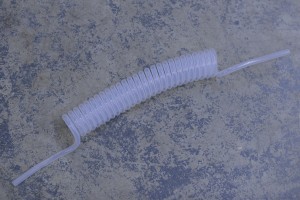 Monofilaments
Industries that rely on fiber woven products to cover pipes and hoses, or to create nonstick surfaces, can benefit from our fluoropolymer monofilaments. These single-strand monofilaments can also be used for brushes, fabrics, and belts, and are currently made out of our PTFE fluoropolymer, which means they maintain universal chemical resistance, exceptional electrical properties, and the ability to withstand extremely low temperatures.
Heat Exchangers
Our heat exchangers also prove critical for use in spaces like chemical plants, refineries, and sewer treatment facilities as they facilitate the seamless transfer of heat. Unlike many other heat exchanger manufacturers, at Fluorotherm™, we've been manufacturing immersion and shell & tube heat exchangers for over 40 years and have more than 800 heat exchanger design variations at our disposal! Our heat exchangers ensure:
Uniform heat transfer
Lack of thermal degradation
Resistance to corrosion
No weld joints
Learn more about each of these high-grade fluoropolymer products by visiting Fluorotherm™ online today!